---
Programm: Ice (St)Ages 1: An Irretrievable Loss? Moving Environments, fleeting encounters and performative gestures
Wednesday 19 May 2021
8.00-8.30am CEST | 4.00-4.30pm AEST
Curtain Up for Ice(St)Ages
Dr Anne Hemkendreis & Dr Anna-Sophie Jürgens
8.30-9.10am CEST | 4.30-5.10pm AEST
The Iceberg and the Ship: Human and Nonhuman Travel in a Warming Antarctic
Prof. Dr. Elizabeth Leane (Keynote)
More Information Prof. Dr. Elizabeth Leane
Elizabeth Leane (Keynote)
The Iceberg and the Ship: Human and Nonhuman Travel in a Warming Antarctic
Elizabeth Bishop's well-known poem "The Imaginary Iceberg" begins with the observation, "We'd rather have the iceberg than the ship, / although it meant the end of travel." While the poem is typically read as a reflection on the nature of art, the choice that Bishop poses at its outset takes on disturbingly literal meanings in the twenty-first century. In recent decades tourists have visited the Antarctic region in exponentially increasing numbers – a trend that the COVID-19 pandemic has disrupted but is unlikely to stop. Iceberg encounters are a key part of this experience, even while the icescape itself is impacted by anthropogenic warming, to which traveling to the Antarctic region is a contributor. At the same time, icebergs have moved from the periphery to the centre of global public consciousness; their ephemerality and mutability ominously signalling the changes operating at a planetary level. The calving of a giant tabular iceberg is now understood as a political event, framed by global media headlines not only as a visual spectacle but also as a source of communal fear, anxiety, guilt and anger. In this presentation, I propose a new term – "cryonarrative" – as a shorthand for the kinds of stories that humans are telling about ice in the contemporary period, and suggest ways in which this term might help us think about the current meanings being assigned to icebergs. Within tourism and media contexts, icebergs are often subject to reductive narratives that render them as aesthetic objects for human consumption or symbols of human doom. As a counter to this anthropocentric approach, I consider the advantages of characterising and narrating icebergs as travellers on a planetary scale whose journeys are entangled with our own.
Elizabeth Leane is a Professor of English in the College of Arts, Law and Education at the University of Tasmania (UTAS), where she is also Associate Dean (Research Performance). She recently completed an Australian Research Council Future Fellowship split between the School of Humanities and the Institute for Marine and Antarctic Studies at UTAS. With degrees in physics and literary studies, she is interested in building bridges between disciplines, and particularly in bringing the insights of the humanities to the study of the Antarctic region. Her work investigates the stories we tell about Antarctica, how they inform our ideas and attitudes toward the continent, and how they can enable new ways of thinking about our relationship to place and environment. She is the author of three monographs – South Pole: Nature and Culture (Reaktion 2016), Antarctica in Fiction (Cambridge UP 2012) and Reading Popular Physics (Ashgate 2007) – and the co-editor of five collections, most recently Performing Ice (Palgrave 2020) and Anthropocene Antarctica (Routledge 2019). She has published in a diverse range of journals, including Studies in Travel Writing, Polar Record, Performance Research and the Journal of Colonialism and Colonial History. She is an Arts and Literature editor of The Polar Journal and co-chair of the Standing Committee on Humanities and Social Sciences within the international Scientific Committee on Antarctic Research. She has visited Antarctic four times as a writer, researcher and teacher, travelling with the Australian, New Zealand and Chilean programmes as well as a tourist operator. Elizabeth is currently working on a book about contemporary Antarctic travel texts and cultures.
9.10-9.30am CEST | 5.10-5.30pm AEST
Discussion

9.30-9.45am CEST | 5.30-5.45pm AEST
Break (online)​​​​​​​
9.45-10.05am CEST | 5.45-6.05pm AEST
Passing by / passed by Arctic Peoples? On Chronotopic Dynamics of Arctic Primitivism in Scandinavia
Prof. Hanna Eglinger
More Information Prof. Hanna Eglinger
Hanna Eglinger
Passing by / passed by Arctic Peoples? On Chronotopic Dynamics of Arctic Primitivism in Scandinavia
The aim of my lecture is to present my new book on Arctic primitivism around 1900, entitled Nomadic – Ecstatic – Magic. The fascination for the Arctic that was so formative for Scandinavian modernity finds its distillation in these terms. My book explores the key characteristics of Arctic primitivism in Scandinavia around 1900 in an approach that combines both aesthetic and cultural dimensions. Taking central Europe's fin-de-siècle preoccupation with the Primitive as a starting point, I am demonstrating how the discourse that originated largely in anthropology found expression in visual art, literature and other media. My book focuses on the specific Scandinavian figuration of Arctic primitivism as it manifests in literature, visual art and film. With examples from Danish film-maker Anders Elfelt, Danish painter Harald Moltke and Swedish photographer Borg Mesch, I trace the Scandinavian experiences and imaginaries of loss that are connected to the indigenous peoples of the Arctic, and the chronotopic dynamics that arise from the aesthetic examination of these narratives of loss.
Hanna Eglinger studied Nordic philology, modern German literature and education at Ludwig-Maximilians-University in Munich, Germany, and Uppsala University, Sweden. Since 2017, she is teaching at Friedrich-Alexander-University Erlangen-Nürnberg as a Professor for Comparative and Scandinavian Literature. Previously, she worked as an Assistant Professor for Nordic philology at Ludwig-Maximilians-University in Munich, where she also received her PhD and her habilitation. Moreover, she was a visiting scholar at the Rachel Carson Center in Munich and holds the chair of the Association of Scandinavian Studies in Germany (Fachverband Skandinavistik). Her research areas include Arctic primitivism and Arctic literature, Knut Hamsun, Scandinavian contemporary literature, inter-art studies and body theories, poetics of parasitism and constellations of beginnings and fallibility in Scandinavian literature. Book publications include: Der Körper als Palimpsest. Die poetologische Dimension des menschlichen Körpers in der skandinavischen Gegenwartsliteratur (2007), (co-authorship with A. Heitmann:) Landnahme. Anfangserzählungen in der skandinavischen Literatur um 1900 (2010); Nomadisch – Ekstatisch – Magisch: Skandinavischer Arktisprimitivismus im ausgehenden 19. und beginnenden 20. Jahrhundert (2021).
10.05-10.25am CEST | 6.05-6.25pm AEST
Artistic (Re)search Into the Ice: Seeing What We Cannot Grasp, Grasping What We Need to See
Stephanie von Spreter
More Information Stephanie von Spreter
Stephanie von Spreter
Artistic (Re)search Into the Ice: Seeing What We Cannot Grasp, Grasping What We Need to See
In their introduction to Arctic Archives. Ice, Memory and Entropy, Susi K. Frank and Kjetil A. Jakobsen consider the polar regions as the knowledge archive of our planet. Here ice acts as a memory medium to form a natural archive which, on the one hand provides us with information on climate history and deep time, at the same time it suddenly lays bare – due to its melting process – formerly hidden human and other biological histories. On the other hand, because it is a disappearing archive, it also wipes out the histories it formerly stored. Consequently, Frank and Jakobsen argue, climate change not only threatens our future but also our past. From this perspective, Arctic ice is considered an active agent that paradoxically enough can also be associated with passive notions of melancholy and loss. In both cases however, ice is seen as having capabilities, sensibilities and qualities that go beyond those collected and made visible through scientific tools and data. In my presentation, I will examine artworks that investigate changing environmental conditions of the Arctic and how/if they visualise the capabilities, sensibilities and qualities of a medium that has historically been associated with "the frozen regions at the end of the world". My particular interest here is how artists apply or refer to scientific research methods and data, and how they are, in that way, often themselves engaged in long-term research processes in order to make visible what is difficult to grasp and what we need to see.
Stephanie von Spreter is currently PhD fellow in art history and member of the research group Worlding Northern Art (WONA) at UiT The Arctic University of Norway in Tromsø. WONA's goal is to strengthen research in art and visual culture from, in and on the (Circumpolar) North. Her research project is anchored in this research group, examining contemporary photographic art that engages with the Arctic as a gendered, colonial and ecological space. Von Spreter also works as a freelance curator and writer. Between 2011 and 2018, von Spreter served as the artistic and managing director of Fotogalleriet, Oslo. In this position, amongst other responsibilities, she has curated a large number of exhibitions and seminars with a focus on contemporary photographic art. Von Spreter is also the co-founder of the first exhibition guide for contemporary art in Oslo, U.F.O. (Utstillingsguide For Oslo), in the meantime called Oslo Art Guide. Von Spreter also worked for various large international exhibitions, including the 3 rd, 4th and 5th Berlin Biennale for Contemporary Art. She was assistant curator for the exhibition The Structure of Survival at the 50. Biennale di Venezia and curatorial assistant at Documenta11, Kassel.
10.25-10.45am CEST | 6.25- 6.45pm AEST
Discussion
10.45-11.00am CEST | 6.45-7.00pm AEST
Wrap Up
---
Thursday 20 May 2021
8.00-8.10am CEST | 4.00-4.10pm AEST
Short welcome
Dr Anne Hemkendreis & Dr Anna-Sophie Jürgens
8.10-8.40am CEST | 4.10-4.40pm AEST
Materiality of Time. Ice as an Elementary Medium in Art and Ecology
Prof. Dr. Birgit Schneider
More Information Prof. Dr. Birgit Schneider
Birgit Schneider
Materiality of Time – Ice as an Elementary Medium in Art and Ecology
The polar regions and their ice have been the symbol of global warming since the icon of the polar bear on the melting floe. At the same time, the eternal ice has been a central motif of sublimity since the 19th century. Starting from an elementary perspective on the medium of ice, in my lecture I will critically examine various works of art from the last 20 years that seek to melt icy imaginaries within us. In 2001, the artist David Buckland founded the initiative Cape Farewell, which sent artists on research ships to the polar regions, so that they would bring their impressions from there back to the temperate zone museums. In terms of an ecologically motivated aesthetic, the artworks allow us to delve into exactly what the medium of ice allows us to sensualise and imagine, as well as problematise the artistic mode of sublimity in times of global warming. Examples will include artworks by Hans Haacke, Katie Paterson, David Buckland, Erika Blumenfeld and Julian Charrière, among others.
Birgit Schneider is a Professor for Knowledge Cultures and Media Environments in the Department of European Media Studies at the University of Potsdam, Germany. She studied art and media studies as well as media art and philosophy in Karlsruhe, London and Berlin. After initially working as a graphic designer, she worked from 2000 to 2007 at the research department "The Technical Image" at the Humboldt University in Berlin, where she received her doctorate. Since 2009, she has been researching in the context of fellowships at the European Media Studies Department of the University of Potsdam as well as in Munich, Weimar and Cambridge, UK. In 2010 she represented the Chair of History and Theory of Cultural Techniques at the Bauhaus University Weimar. Her current research focuses are images and perceptions of nature, ecology and climate change, diagrams, data graphics and maps as well as images of ecology. She is founder of the working group "Eco Media: Media of Nature", co-speaker of the "Network Digital Humanities" of the University of Potsdam and a member of the research group "Sensing. On the knowledge of sensitive media". Selected publications include "The Technical Image" (Cambridge 2015) and "Image Politics of Climate Change" (Bielefeld 2014), and German monographs "Textiles Prozessieren" (Berlin 2007) and "Klimabilder" (Berlin 2018).
8.40-9.10am CEST | 4.40-5.10pm AEST
Nostalgia for the Ice. Glacial Imaginaries 1850 and Today
Dr. Dominik Schrey
More Information Dr. Dominik Schrey
Dominik Schrey
Nostalgia for the Ice – Glacial Imaginaries 1850 and Today
Compared to Greenland's and Antarctica's ice shield that, together, store 99% of the earth's freshwater ice, the glaciers of the European Alps seem almost insignificant. However, they played a pivotal role in establishing our modern icy imaginaries. In the 19th century, glaciologists tried to make sense of glacial movement, meticulously mapping and surveying what some of them considered to be materialised "streams of time". Deciphering the geomorphological traces of former glaciers led to the theory of an earlier Ice Age. Around 1850, fantasies of a frozen world and new geological time scales unsettled the scientific imagination, while the majestic glaciers' first photographs fascinated audiences worldwide. Today, this period is known as the end of the so-called Little Ice Age and the tipping point of global glacier mass balance. By 2000, the Alpine glaciers had lost more than half of their 1850 size, with the pace of decline accelerating in the last two decades. Based on the conceptual lens of nostalgia – another alpine invention popularised by one of the first naturalists to scientifically describe glaciers – I ask how the glacial imaginaries of 1850 matter for today's aesthetics of the Anthropocene. Of particular interest in this context are historical methods of making sense of glaciers and artistic projects that reflect upon their vanishing without simply staging the melting glaciers as symbolic thermometers of a planet in crisis. In particular, I will discuss recent works by artists such as Dan Holdsworth, Douglas Mandry and Jos Schmid. 
Dominik Schrey is a Lecturer in Digital Media Culture at the University of Passau, Germany, and in the winter term of 2021/22, he will be a Research Fellow at the IFK International Research Center for Cultural Studies | University of Art and Design Linz in Vienna, Austria. Prior to that, he worked as a postdoc at the University of Freiburg and the Karlsruhe Institute of Technology, Germany. In autumn 2011, he was a Visiting Fellow in the PhD Programme in Film and Visual Studies at Harvard University. In 2017, his dissertation Analoge Nostalgie in der digitalen Medienkultur (Analog Nostalgia in Digital Media Culture) was published by Kulturverlag Kadmos in Berlin. His current research focuses on media ecology, media history and digital infrastructures. Parallel to his "Alpine Topographies of Loss" project presented here, he is working on a media history of "Smart Street Furniture".
9.10-9.30am CEST | 5.10-5.30pm AEST
Discussion
9.30am-9.45am CEST | 5.30-5.45pm AEST
Break (online)
9.45-10.00 am CEST | 5.45-6.00pm AEST
Artistic Performance: "Ice and Water: Reflections on Fluidity
Natalie Reckert
More Information Natalie Reckert
Natalie Reckert (Performance)
Ice and Water – Reflections on Fluidity
"Ice and Water – Reflections on Fluidity" is a research and development project melding handbalancing, spoken word and experimental stage design to explore the ever-changing nature of the elements and the human body. Supported by Jacksons Lane Theatre and The Lyric Theatre Bridport, Natalie is working with director Tina Koch (Ockham's Razor) and choreographer Rosamond Martin to explore the ephemeral quality of water and its role in human life as well as in the environment. The project explores the acrobat's body in natural and imaginary environments as it sweats, loses water and changes in temperature. It also looks at balance – the constant struggle of a handbalancer – as a bodily state which is fragile and unlikely. As Natalie constantly shifts in and out of balance she interacts with different materials that represent the elements, which change and transform in constant flux. She creates landscapes that are both metaphorical and real, playing with the tension between what is now and the potential loss of it. In the liminal space between here and an imagined future she creates a moving and shifting artwork of movement and spoken word.
Natalie Reckert is a theatre maker integrating robotic movement, spoken word and handbalancing to create full length shows since 2007. A graduate of the National Centre for Circus Arts in London, she undertook a study year at Visions in Motion dance school in Kassel, Germany, in 2009 and has a BA in social sciences from Humboldt University in Berlin. Here solo performance "Selfie with Eggs" toured widely and received four Stars at the Edinburgh Fringe Festival. Since 2018 she has been working with digital artist Mark Moreau, with whom she made "Natalie Inside Out" in association with the Lowry Theatre in Salford. Her new piece "Stones and Water" is currently in the making. She also teaches handstands on YouTube to a growing audience
10.00-10.30am CEST | 6.00-6.30 pm AEST
Icy Mediations of Geography: The Life of the Land and of the Sea in Kajutaijuq (2015)
Prof. Dr. Johannes Riquet
More Information Prof. Dr. Johannes Riquet
Johannes Riquet
Icy Mediations of Geography – The Life of the Land and of the Sea in Kajutaijuq (2015)
This paper has two primary aims: (a) to present the main premises of the collaborative Mediated Arctic Geographies research project (funded by the Academy of Finland, 2019-2023) and (b) to illustrate the project's general aims with a brief case study. Overall, the project studies the mediation of Arctic geography in a variety of genres and media ranging from literary texts and animated films to maps and rap songs. We have two goals: first, to investigate how Arctic geospheres – such as snow and ice, rivers and coastlines – are aesthetically shaped and mediated to become vehicles of environmental, (geo)political and social concerns; and second, to trace the continued impact of historical representations of the Arctic by reading contemporary literature and visual culture through the prism of earlier discourses from both within and outside the Arctic. In the second part of this paper, I will briefly discuss the poetics of snow and ice in the Nunavut-based short horror film Kajutaijuq (2015). Kajutaijuq reinvents figures from Inuit mythology for the horror genre in its story of an Inuk hunter who is out on the land and hunting on the ice. I argue that the film explores the importance of sound for mediating geographical knowledge. Inuit understandings of snow and ice differ significantly from Southern conceptions. The latter frequently foreground the snow and ice of the Arctic as "sources of sublime astonishment and terror" (Loomis 102). In contrast, Inuit accounts view snow and ice as thoroughly alive. The thesis I would like to present is that sound in the film bridges the material, the spiritual and the aesthetic to animate the snow-covered land and the icecovered sea in various ways that contrast markedly with (neo)colonial sonic mediations of the Arctic.
If you would like to watch Kajutaijuq before the presentation (the film is only 15 minutes long), you will find a freely available version on Vimeo: https://vimeo.com/103292836
Johannes Riquet is a Professor of English Literature at Tampere University (Finland). He is the author of The Aesthetics of Island Space: Perception, Ideology, Geopoetics (Oxford University Press 2019) and the co-editor of Spatial Modernities: Geography, Narrative, Imaginaries (Routledge 2018) as well as Imaging Identity: Text, Mediality and Contemporary Visual Culture (Palgrave 2019). He recently edited a special issues/theme section on Islands and Ice for the journal Shima and is currently working on a monograph on interrupted railway journeys in British and American literature and visual culture. He is also the Principal Investigator of the collaborative project "Mediated Arctic Geographies: Geopolitics, Climate Change and Arctic Imaginaries, 1997-Present" (funded by the Academy of Finland, 2019-2023). He co-founded the international research group Island Poetics. Further, he is the head of the Doctoral Programme in Languages and of the research group Spatial Studies and Environmental Humanities at Tampere University. Johannes Riquet's research interests include spatiality in literature and film, the links between literature and geography, mobility, phenomenology and perception, the Arctic, islands and railway fiction.
10.30-10.40am CEST | 6.00-6.40pm AEST
Discussion
10.40-11.00am CEST | 6.40-7.00pm AEST
Comments and Outlook
More Information Scientific Organizers: Dr. Anna-Sophie Jürgens | Dr. Anne Hemkendreis
Anna-Sophie Jürgens is an Assistant Professor at the Australian National Centre for the Public Awareness of Science of the Australian National University (ANU). She was an Alexander von Humboldt Fellow at the ANU and the Free University of Berlin, Germany from 2017 to 2020. She has published on circus fiction and aesthetics, the history of violent clowns, comic mad scientists, the Joker and comic performance and technology in culture ascross numerous academic journals. Anna-Sophie is guest editor of two special, themed journal issues published in 2020 with the Journal of Science & Popular Culture (on popular performance and science) and Comedy Studies (on violent clowns). Her recent books include Circus, Science and Technology: Dramatising Innovation (editor; Palgrave Macmillan 2020) and Manegenkünste: Zirkus als ästhetisches Modell (coeditor; transcript 2020).
Anne Hemkendreis works as an academic researcher at the transdisciplinary research group 948 on "Heroes, Heroizations, Heroism" at the University of Freiburg (Germany). Her current research interest lies in the depiction and meaning of snow in Arts from the 19th century until today. Prior to this, she gained her PhD with a thesis on the visualisation of privateness in Vilhelm Hammershøi's interior paintings (Fink Verlag, 2015). She also worked as a postdoc-fellow and research assistant at the Alfried Krupp Wissenschaftskolleg of Greifswald, the Klassik Stiftung of Weimar and the Leuphana University of Lüneburg (all in Germany). Anne is also regularly a passionate Lecturer at different institutions, including the University of Arts in Berlin.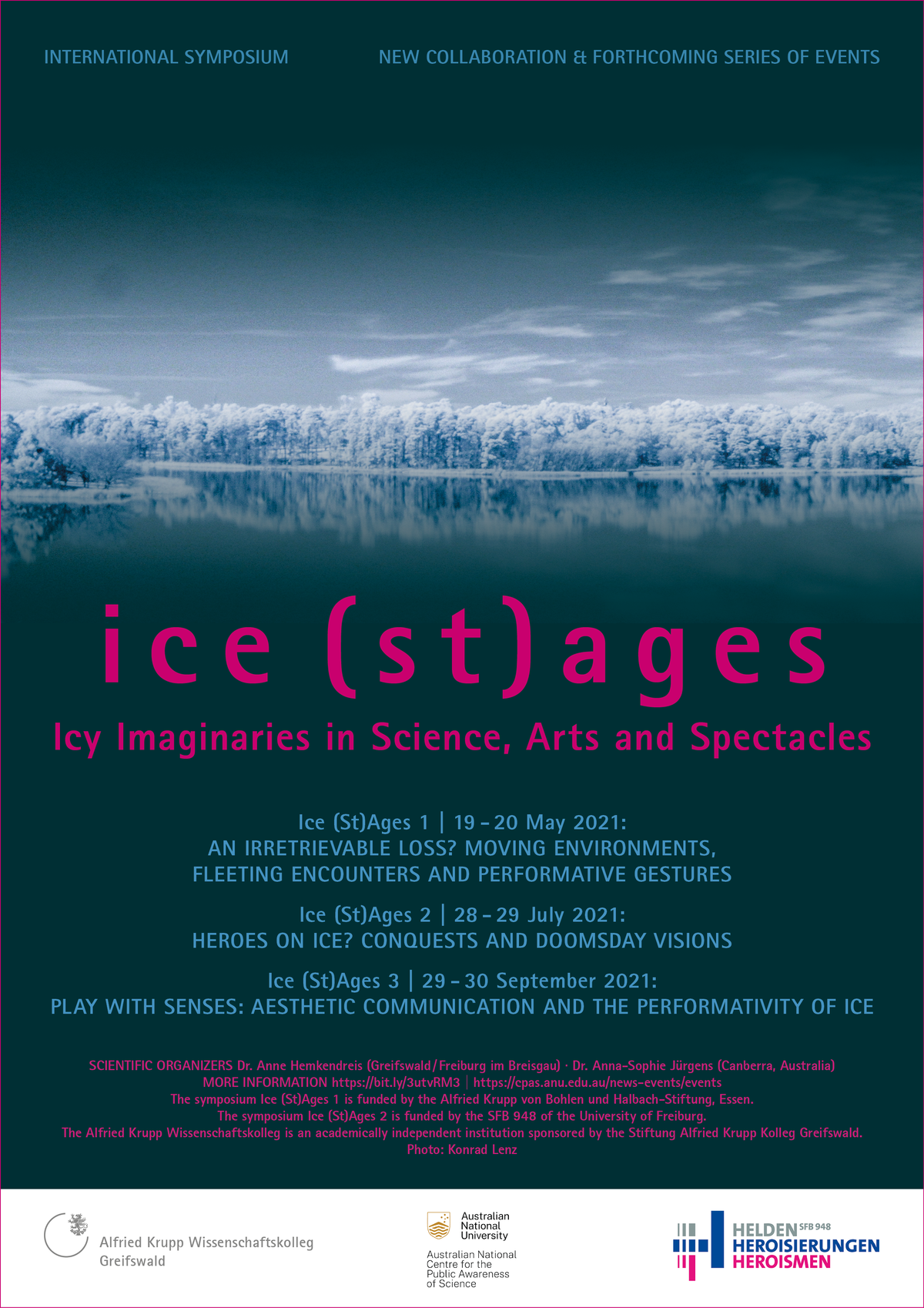 ---
---